The Maramagambo Forest is one of the unique treasures that travelers should not miss while on a Uganda safari through Queen Elizabeth National Park. A lush contrast to the sprawling plains of Kasenyi and Ishasha, the Maramagambo Forest in the center of the park offers a very different experience for visitors.
This is one of the most scenic rainforests in Uganda and it lies within Bushenyi district in the west about 5 to 6 hours' drive from Kampala capital city. Maramagambo Forest forms part of the vast Queen Elizabeth National Park which is located in western Uganda. This remarkable rainforest boasts of its exceptional bat cave, Crater Lakes-Lake Kyasanduka and Lake Nyamasingiri. The woodland side inhabits chimpanzees, red tailed monkeys, black and white colobus monkeys, L'Hoest monkeys, baboons, blue monkeys, pottos, bush babies, bates's pygmy antelopes a mention but a few.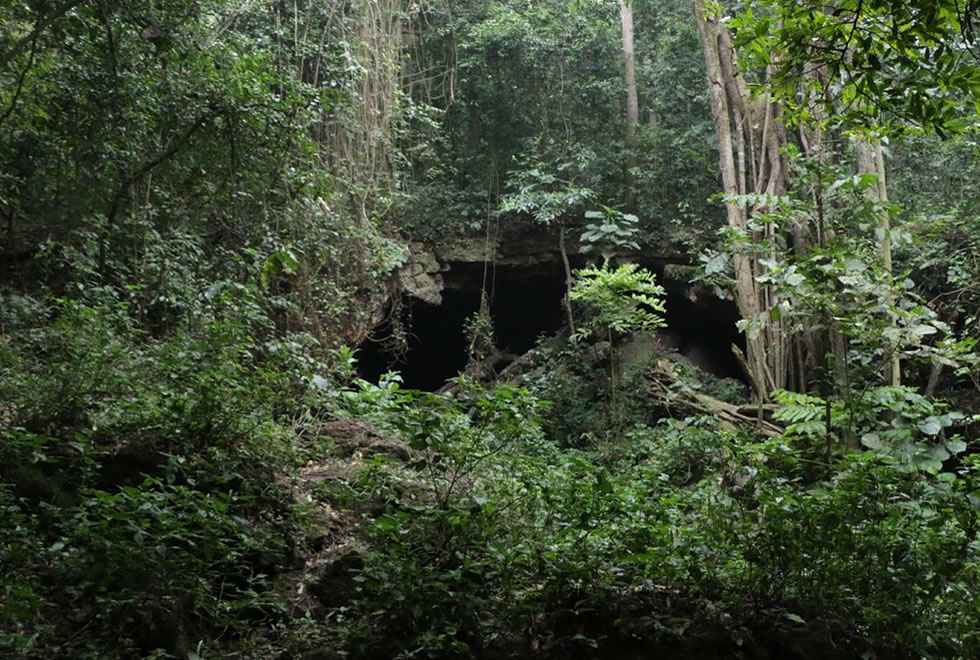 The word Maramagambo is derived from legendary fiction where a cluster of young people disappeared in the forest and they spent days in the forest and never found the clear route back to their village. However, when they found a way and reached their village, they couldn't speak for sometime because they were exhausted. Because they couldn't speak, this was described as Maramagambo denoting end of words.
Lots of Things to See
Buzzing with primates, including L'Hoest's, red-tailed, vervet and black and white colobus monkeys, chimpanzees and baboons, the forest is also alive with numerous bird species including the rare Forest
Flycatcher, White-naped Pigeon and the striking Rwenzori Turaco. One can visit the 'cormorant house', a large tree in the forest that has been turned white by the birds that roost in it at night.
The shady forest, which has 242 tree species, also conceals crater lakes, and a "Bat Cave". The cave has a viewing room built through funding from the Center for Disease Control in which visitors can observe the
bats as well as the pythons that live alongside them… did you know that these serpents live amongst their prey?!
Location:
Maramagambo forest is a tropical forest found in the far western Uganda – Bushenyi district.
Meaning of Maramagambo:
To some people, the name of forest came after a group of people got lost in the younger forest and when found, they could not speak for a long time. After finding their way out they reached the village and they were speechless which made a conclusion to the name Maramagambo which meant "end of words".
Wildlife in Maramagambo Forest:
Maramagambo forest in part of Queen Elizabeth- the second largest National Park in Uganda which is famous for hosting a variety of animals and birds including the big Five: Leopard, Lions, Elephants, Hippos and Buffaloes. Like other rain forests, Maramagambo is characterized by tall tress, Canopy tree shades, buttress rooted trees, tree climbing plants, hard wood trees, the forest receives much rain fall, little under growth, fruity trees, larger trees, the trees shade off leaves in dry seasons among others.
Getting to Maramagambo Forest
Maramagambo Forest is reachable by road or air. By road, drive from Kampala through Masaka-Mbarara to Bushenyi or Kampala-Mubende-Fort Portal then to Kasese. You need a 4 wheel drive safari car which you can hire through a tour operator or take a bus. You will spend about 5 to 6 hours to drive up to Maramagambo Forest but this may depend on the route you take. Or take a flight from Entebbe International Airport/Kajjansi airfield then land in at Ishasha/Kasese or Mweya airstrip then connect to Maramagambo Forest.
Best time to visit Maramagambo Forest
Depending on what your travel interests are, Maramagambo Forest is open for primate exploration at any time of the year. But perfect for chimpanzee tracking in dry season which occurs from June to September and December to February. However, Maramagambo Forest can be explored during the wet season which takes place from March to May and October to November.
What to do in Maramagambo Forest
Nature walks
Maramagambo Forest is perfect for nature walks. A nature walk through Maramagambo Forest loop gets you the best sights at varied primates, birds and scenic Crater Lakes.
The bat cave exploration
The bat cave is an exceptional site within Maramagambo Forest. Around 2008, the bat cave was close because of a woman who contracted Marburg virus. However, Queen Elizabeth National Park management together with the American Center for Disease Control set up a safe viewing platform outside the bat cave. At the bat cave, hundreds of bats thrive and can be spotted.
Chimpanzee tracking
Chimpanzee tracking is one of the main safari experiences offered in Maramagambo Forest. Chimpanzee trek in Maramagambo Forest allows you to get up close with chimpanzees while in their natural habitat. Besides, you come across several primates including the black and white colobus monkeys, vervet monkeys, baboons a mention but a few as well as birds such as dark capped yellow warblers, black headed Batis, Sulphur breasted bush shrike, red tailed bristle bill, Ross's Turacos and others.
Bird watching
Birding in one of the best and rewarding safari experience offered in Maramagambo Forest. The birds to spot out at Maramagambo Forest include bat hawk, African green pigeon, Ross's turaco, Rwenzori turaco, white napped pigeons, sulphur breasted bush shrike, dark caped yellow warblers, fawn breasted wax bill, forest flycatchers a mention but a few.
The other exciting activity to do around Maramagambo forest is Kayaking at the Kyasanduka Crater Lake
Visit the Bat Cave
The forest is famously associated with its Bat Cave where a tourist from the Netherlands was exposed to Marburg virus present in the bats that live in the volcanic tube cave and developed Marburg virus disease. Following this outbreak, the cave was closed until the construction of a viewing platform with support from the United States Centers for Disease Control and Prevention. The forest is bordered by two crater lakes: Lake Kyasanduka and Lake Nyamasingiri. Primates found in the forest include chimpanzees, red-tailed monkeys and Bates' pygmy antelopes can be found here.
To that note therefore, the forest is multi- purpose since it facilitates tourism and activities like primate trekking, nature walks, birding and so on are conducted. The forest is also useful to the local community in terms of convectional rain fall, provision of shades, harbors dangerous animals, birds and insects, fire wood, source of water bodies among others.
More attractions found in the forest include elephants, birds like the pigeons, bat cave that give tourists on the chance to see the bats and pythons. However later it was known that the bats were not the problem because they are many in Uganda and they always fly and interact with the local people but nothing like that report has come up therefore the bat cave is now visited by tourists while on their tour to western Uganda – queen Elizabeth National Park.
Other forests in Uganda that catches the attention of tourists include Mabira forest, Bwindi Impenetrable Forest, Budongo forest, Kibale forest and so on. The forests are so useful to Ugandans and tourists in the following ways:
Uganda's forest generates convectional rain falls through evapo –transpiration, Forests harbor dangerous wild animals, birds and insects which are harmful to human beings, Forests moderate the environment- they are sources of water bodies which cools the environment, Forests provide timbers, poles for construction, Forests are sources of wood, source of fruits, provides shade, hunting ground, source of herbal medicine and many other uses.
From Maramagambo Forests tourists can also visit Kibale Forest to View lots of primates by the major chimpanzees. Bwindi Impenetrable Forest to trek Mountain Gorillas, Budongo Forest for chimp trekking Bugoma Forest, Mount Elgon Forest, Echuya Forest, Kalinzu Forest Reserve, Kasyoha Kitomi Forest, Mpanga Forest, Rwenzori Mountains Forest, Marabigambo forest, Sango Bay Forest, Semiliki Forest among others.
In a nutshell, Maramagambo Forest is one of a few rain forests that still exist in Uganda today. A visit to this pristine forest reserve allows you to explore the hidden treasures within its jungle.