A Guide to Queen Elizabeth National Park, Western Uganda
A Complete Guide to exploring Queen Elizabeth National Park, Western Uganda. This guide offers free travel information on
what to do
,
where to go
,
things to see
, maps & guides, where to stay, tips & advice and all the information you need to know to plan your Uganda safari. The 1978km2 is bounded by the
Ishasha River
and Lake Edward in the west, the
Kyambura Gorge
and
Kalinzu Forest Reserve
in th East, the Rwenzori Mountains in the North, and Kigezi Wildlife Reserve in the South. The park forms part of an extensive system of contiguous protected areas, namely the Kigezi Wildlife Reserve (265km2) and
Kyambura Wildlife Reserve
(154km2),
Kalinzu Forest Reserve
, Kibale National Park (766km2) and, in neighboring DRC, the 2000km2 Virunga National Park. The Rwenzori Mountains National Park lies a few kilometers north.
Why Visit Queen Elizabeth National Park
Queen Elizabeth is Uganda's most scenic and diverse park. This world known biosphere reserve is a wonderful location on the floor of the Albertine Rift Valley, 914 metres above sea level, at the foot of the 5,100 meter Rwenzori Mountains. Explore the varied habitats such as lakes, rivers, open savanna, acacia woodland, tropical forest and vast wetlands. The park supports an impressive 95 mammal species and over 600 species of bird. It's a remarkable total for a park covering less than 2,000 sq km – one that is surpassed in Africa only by the neighboring and larger Virunga National Park in Congo.
Popular Safari Experiences
Experience Queen Elizabeth National Park like never before. This world biosphere reserve is a vast and rich national park, filled with an abundance wildlife including the tree climbing lions. Book an unforgettable tour of Queen Elizabeth National Park with the expert guides from Experience Africa Safaris!
Places of Interest
There are several places of interest to visit in Queen Elizabeth National Park. These include Maramagambo Forest, the Ishasha Sector, Kyambura Gorge, Kasenyi Plains, Kazinga Channel, Mweya Peninsular, Katwe Salt Works etc.
Things to See in Queen Elizabeth National Park
There are lots of things to see in Queen Elizabeth National Park. From the popular tree climbing lions in the Ishasha to the fast moving chimpanzees of the Kyambura Gorge, there is a lot to see in the park.
Flora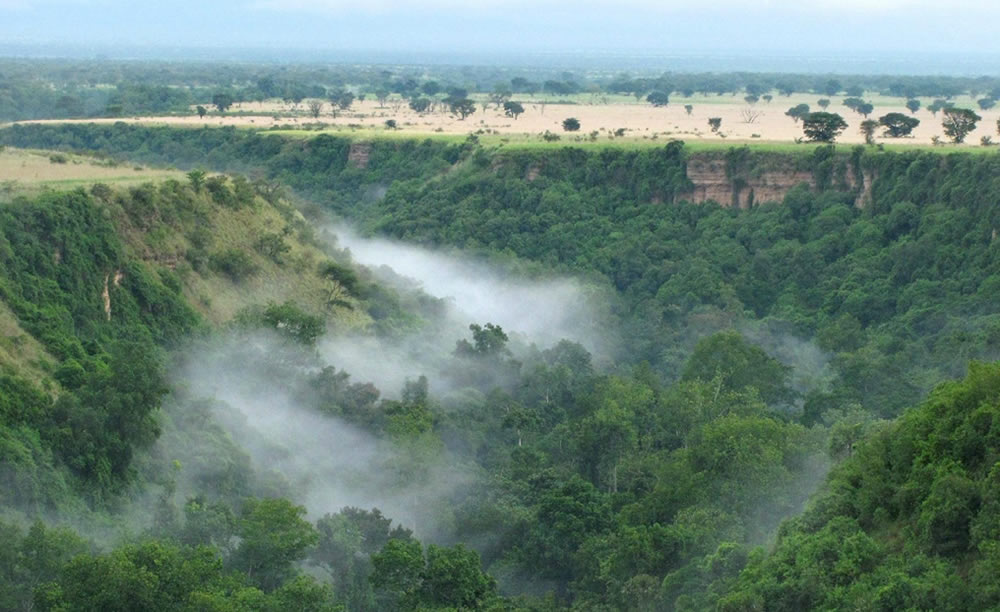 Fifty-seven vegetation types have been identified in the Park. These types can be summarized as just five: forest; grassland; bushy grassland; Acacia woodland and lakeshore/ swamp vegetation. Read More
Things to Do in Queen Elizabeth Park
There are endless things to do in Queen Elizabeth National Park. We bring to you the most popular adventure activities that you can enjoy during your safari in Uganda's world biosphere reserve.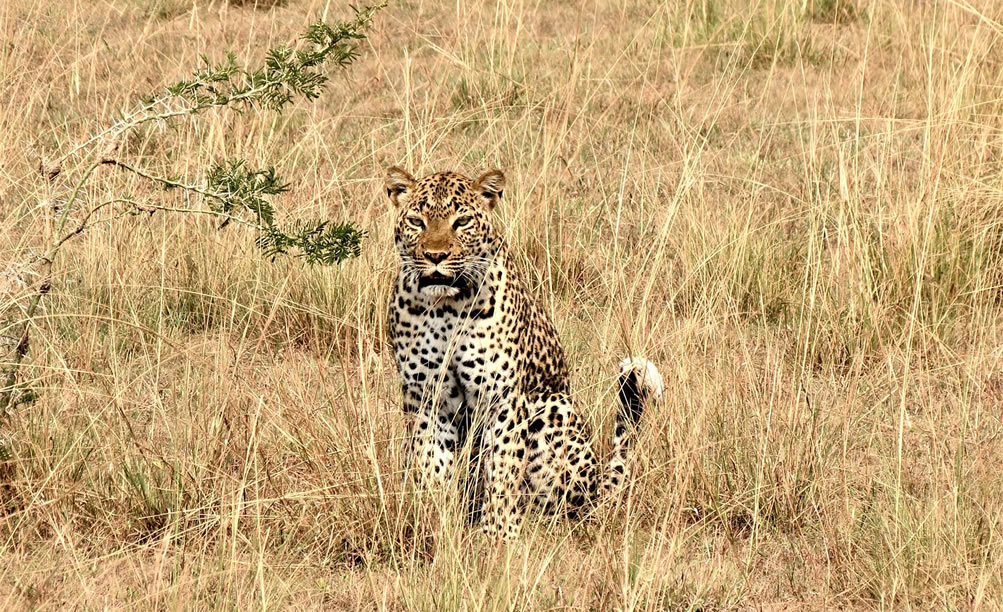 Queen Elizabeth NP has several trails where game drives are conducted. From popular game drives around Mweya to drives into the remote Ishasha Sector that is famed for its tree-climbing lions, you will not be disappointed. Your game drive will be full of great glimpses of the indigenous wildlife while stretching your limbs. Read More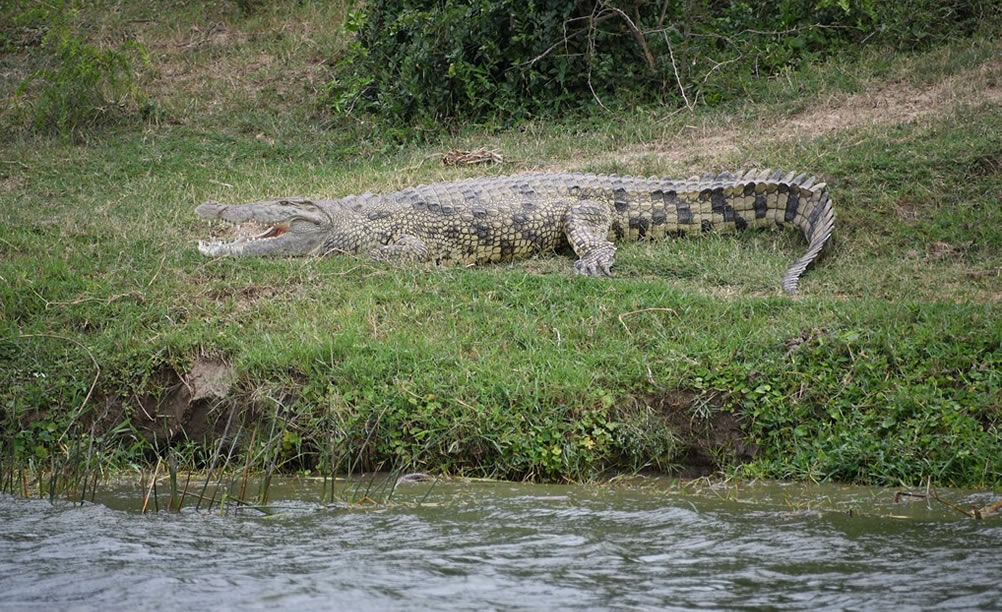 Most visitors do not miss taking a launch trip up the Kazinga Channel. With a little luck, visitors can see thousands of hippos and birds along the cruise. There are also chances of seeing plenty of wildlife that comes for a drink at the channel and the lakes including elephants, buffaloes, etc. There are trips ta 9AM, 11AM, 3PM and 5PM. Read More
Kyambura Gorge Walking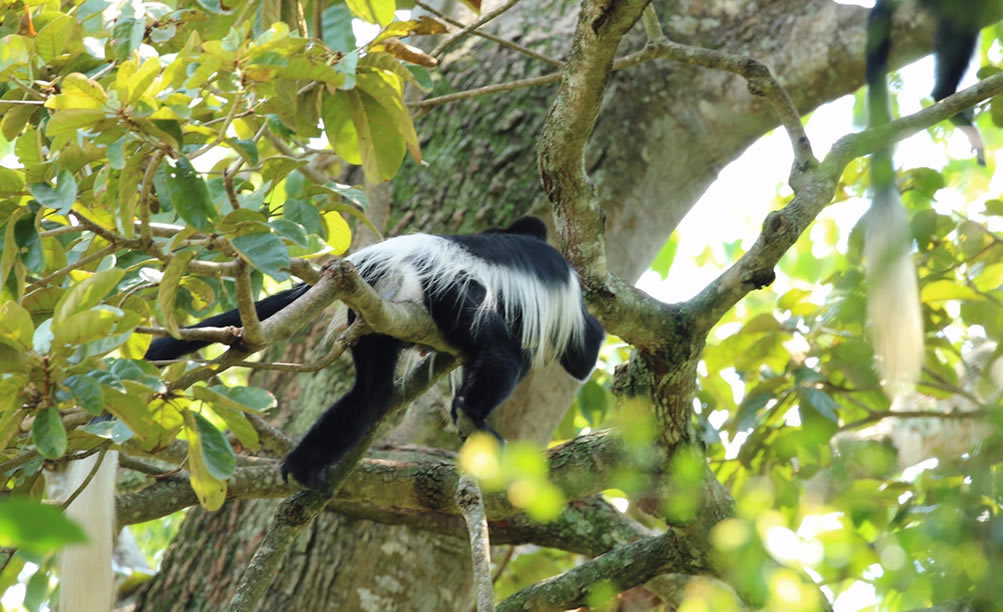 Kyambura lies in the eastern corner of Queen Elizabeth National Park. The gorge is beautiful and walking safaris can be arranged at he ranger post. The gorge hosts a variety of primates including chimpanzees that are often visible on the walking safaris. Walks take from 3 to 5 hours.
About Queen Elizabeth National Park
Queen Elizabeth National Park is understandably Uganda's most popular national park. With its diverse ecosystems, which include sprawling savanna, shady, humid forest, sparkling lakes and fertile wetlands, Queen Elizabeth National Park is ideal habitat for a safari in Uganda. The park is home to classic big game, ten primate species including chimpanzees and over 600 species of birds.
Set against the magnificent backdrop of the jagged Rwenzori Mountains (the mountains of the moon), the park's magnificent vistas include 72 enormous craters carved brutally into rolling green hills, panoramic views of the Kazinga channel with its banks lined with hippos, buffalo and elephants, and the endless Ishasha plains, whose fig trees hide lions ready to pounce on herds of unsuspecting Uganda kob.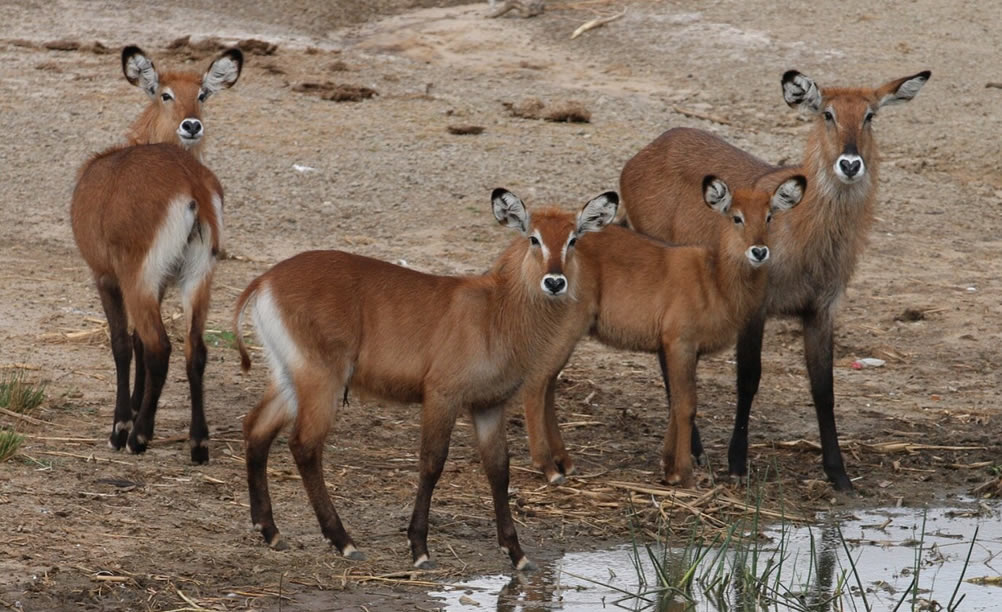 The 1978km2 Queen Elizabeth National Park enjoys a stunning location on the rift valley floor between Lakes Edward and George where a mosaic of habitats supports 95 mammal species and a remarkable 612 species of birds. Forty years ago, Douglas Willocks described the diverse features that led to its creation in 1952. There still exists no better introduction or a more enticing invitation to visit the park.
'Scenically the area had everything. Thirty miles to the north, the blue Rwenzori exploded from the plain, a composite, jagged mass of mountains, sixty miles long and forty wide and looking in certain lights as if you could reach out and touch them. Across Lake Edward to the west, the Mitumbe hills stood sentinel on the Congo, blue too in the long sight but in the closer green, wooded, precipitous, unfriendly and epitomizing darkest Africa.
The eastern boundary of this possible park was marked by the calm green escarpment of the western Rift Valley. And between all the hills, mountains and lakes was endless savanna, its constantly repeated motif the branched cactus arms of the candelabra euphorbia tree.'
The dramatic scenery is largely due to mountains beyond the park boundary. The park itself lies on the rift valley floor where it rises 480m from 910m at the Kazinga Channel to 1390m in the Explosion Crater field. The low altitude and its location directly on the equator mean that temperatures can be warm, rising from a mean minimum of 18°C to a mean maximum of 28°C. The park receives up to 1250mm of rain, mostly during March – May and September – November.
Biodiversity
From open savannah to rain forest, from dense papyrus swamps and brooding crater lakes to the vastness of Lake Edward, it is little wonder that Queen Elizabeth National Park boasts one of the highest biodiversity ratings of any game reserve in the world.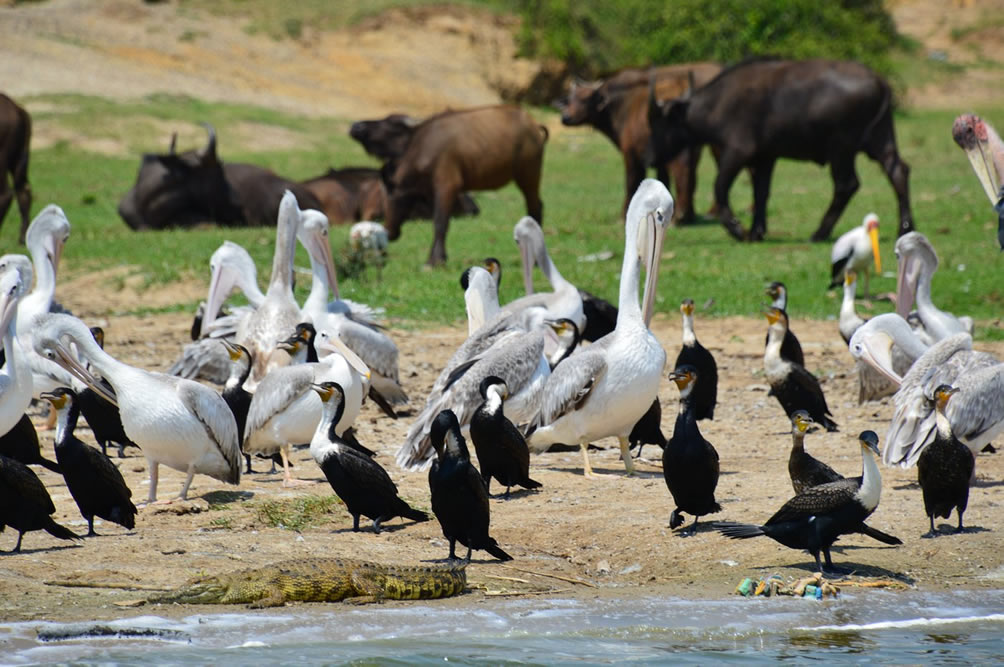 Almost 100 mammal species and a remarkable 606 bird species makes this superb safari territory, with elephant, a profusion of hippos, the elusive giant forest hog and handsome Uganda kob all regularly sighted around the tourist village on the Mweya Peninsula – which also boasts a marvelous waterfront setting in the shadow of the Rwenzori Mountains.
Elsewhere, the remote Ishasha Sector is famed for its tree-climbing lions, the Kyambura Gorge harbors habituated chimps, the Maramagambo Forest is home to an alluring selection of forest monkeys and birds, and flocks of flamingo are resident on the crater lakes.
Plan Your Safari to Queen Elizabeth National Park
Queen Elizabeth national park is truly amazing and spectacular! It's a popular tourist attraction located in the western region of Uganda. Being designated as a National park, allows the local official to control the area and set the rules. You can expect to see a large variety of native wildlife species including birds, reptiles and mammals. At Queens Elizabeth national park, provisions have been made for camp sites and lodging accommodations for visitors.
During a safari in Uganda, always be sure of only glorious scenery and escapades. Hop into the safari van and spend hours keeping your eyes peeled for wildlife. It's all out there; you just have to pay attention. These animals are made to blend in with their surroundings and if you blink, you may miss an amazing opportunity.
This national park is endowed with every kind of wildlife you can think of especially wild game like four of the big five (lions, elephants, buffaloes, leopards) hippos, buffaloes, warthogs, bush pigs, a variety of antelopes etc . The park has over 606 different bird species as well as plants that are rare.
What is the best time for visiting Queen Elizabeth National Park?
During Dry season from June to September and December to February every year is the best time to visit Queen Elizabeth National park. The park can as well be visited all year around and you will be able to see the wildlife and do a safari in Queen Elizabeth National Park. Dry seasons offer great sighting of wildlife compared to wet seasons.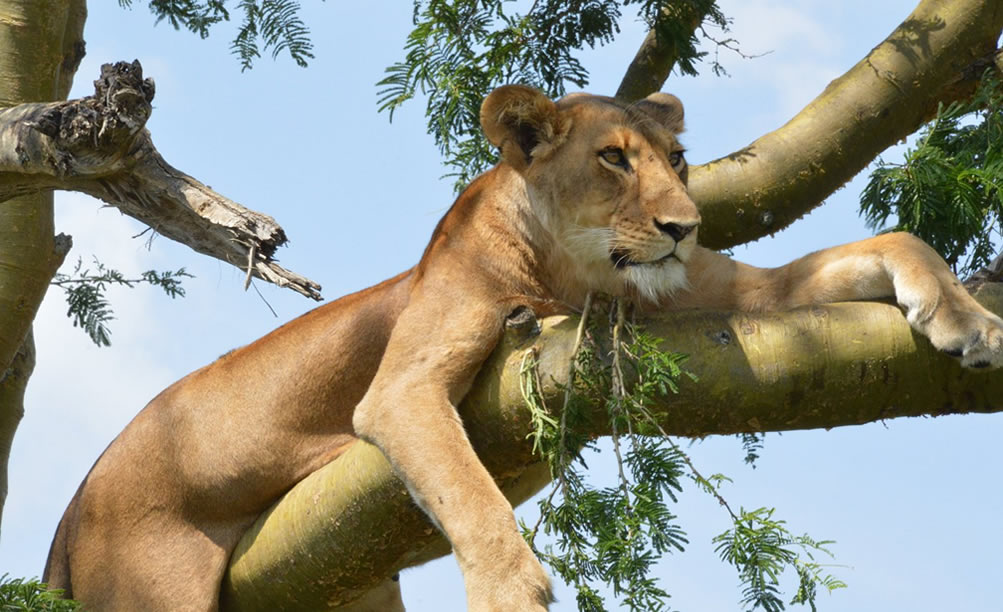 The park can be visited by tourists during the weekends and most trips to the park start from 3 Days! Many tourists combine Queen Elizabeth National Park with the neighboring national parks such as Kibale Forest, Bwindi Impenetrable National Park, Semuliki National Park and the Rwenzori Mountains.
Where can I stay in Queen Elizabeth National Park?
On your flying safari to Queen Elizabeth National Park, you atleast need to spend a night in either Entebbe/Kampala before the start day and at the end of your safari. This will help you catch up with the flight departure and return times as well avoid the risk of missing the flight in case of uncertainties like loss of your luggage, missed connecting flight to Entebbe on your flight to Uganda among others.
Accommodations in Queen Elizabeth National Park range from budget, mid-range to luxury.
Budget options include Pumba Safari Lodge, Elephant Hab Lodge among others and their Fares range from 90-100 dollars a night per person.
Mid-range options include Buffalo Safari Lodge, Bush Lodge, Enganzi Lodge, Irungu Safari Lodge, Park View safari Lodge, Ihamba Lake side Lodge among others and their fares range from 100-200 dollars a night per person.
Luxury options include Kyambura Gorge Lodge, Mazike Safari Lodge, Katara Lodge and Mweya Safari Lodge, Kasenyi safari camp among others and their fares range from 200-400 dollars a night per person.
Latest News
Get the latest news and stories from the Queen Elizabeth National Park, a world biosphere reserve. Read the latest travel tips and advice to help you experience the park!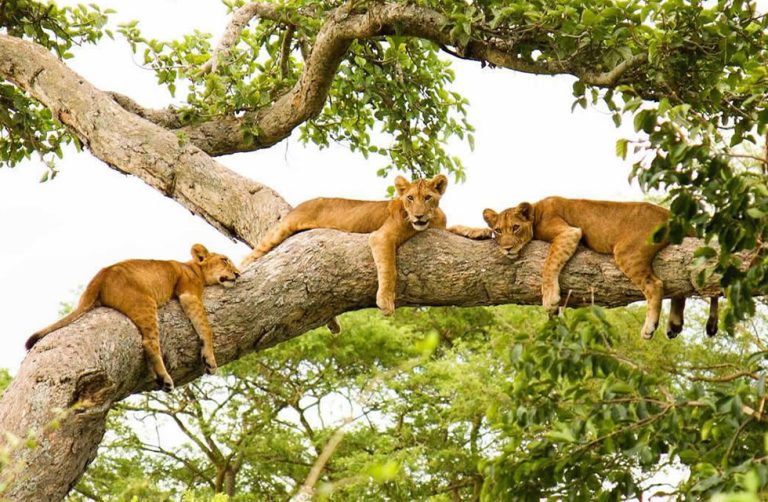 Experiences
Gorilla tracking can be combined by many other activities ranging from wildlife to water spot activities. Tree Climbing lions in Uganda ...